Join the John Denver Friends of Nature Web Ring
Bringing together websites which share John's vision of healing and protection of our environment and planet.
Join the John Denver Friends of Nature Ring
After you've joined, please copy the JD graphic below and get the ring code. Copy the html fragment and add to your home page. IMPORTANT: Be sure to replace the site ID# and other references with your own web and contact information! Should you need any assistance, please contact the Ring Master.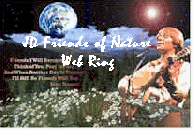 Please do not link directly to this graphic! Save the graphic with a right mouse click to your own file and insert it on your home page above the html code.